See - I'm trying to get back to posting regularly - at least a few times a week! It's late though, so I'll update more later, but for now...I'm here to bring you this week's installment of WIWBW!
1. A cool tunnel for the munchkin:
My little baby is growing up so fast! In fact, she's so big, she tells me "baby, baby, baby" & lays in my arms when she wants to be cuddled like a baby. :) So cute, but bittersweet of course since she's growing up too fast for this mama! Anywho, I have been eying this cute tunnel in my most recent
One Step Ahead
catalog because her latest & greatest is crawling through & under stuff - like our ottoman (it's a big one with an open bottom for extra storage), like under our legs, etc. Maybe the Easter bunny will bring this along for her?!
2. A new sectional for my living room:
Ever since we purchased a sectional for the basement, I've been lusting after this one for our living room. One problem (besides the obvious cost issue) - I don't think we have room in our teeny living room. Sigh. Maybe in the next house. :o/
3. A pair of gray jeans:
Ahhh I actually have a pair of gray jeans, but ever since having the munchkin, these hips & booty will just not fit back into my size 7's. Ugh. So, I went to gap & tried these on - loved them, but wasn't loving the $70 price tag. So my awesome friend & neighbor bought these for me as a gift (she works for Gap & got 50% off, woo) - LOVE her to pieces! And I'm also loving my sweet new pair of gray jeans! Thanks Pam...xoxo!
4. A striped cardigan: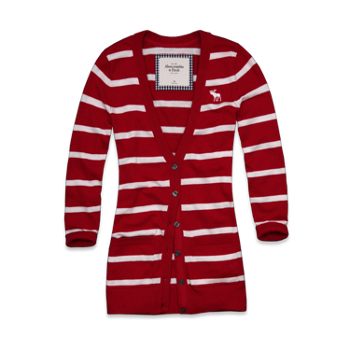 I saw this pinned on an outfit on Pinterest & just had to have it! Luckily, it's on sale at Abercrombie, so I got it in Navy because that's even cheaper & I like navy more than red. For some reason, I am loving stripes right now - it must be a new spring trend because I'm seeing them everywhere lately!
5. A new dog tag for the dog:
Having a blog, I sometimes get marketing emails from a variety of companies asking em to feature their products on my blog & this is one of the rare times I actually accepted because I'm really digging this product! It's a pet ID tag with GPS Notification Services by
Pet Hub
. I cannot tell you how many times my mom has had to put up signs for her lost cats (they are indoor/outdoor cats & wander off from time to time, which worries my mother sick!) & I always worry one day that our dog will get out or run out of the door & keep running. This tag provides peace of mind that both my mom & I will always be able to find our treasured fur babies. They run away, you can track them online or someone can scan the code on their tag with their smartphone & your information will come up! Such an awesome idea - and if you're intrigued, they have a
Groupon
running right now for a tag + a one-year subscription to their gold service for only $14. And...I may be offering a giveaway of one of the tags here on my blog soon - just trying to work out the deets!
And that's all I have for this week's WIWBW. 'Till next time!