So I know I slacked on Menu Planning Mondays this week. I woke up Monday morning in soooo much pain. I had a HORRIBLE sinus headache & was so congested. Thankfully, it's now Friday & supposed to be
B-E-A-U-T-I-F-U-L
in the DC Area this weekend - in the 80s & I'm feeling better, woot! I have lots of stuff coming up on the World of Dennifer - including a very exciting (well to me anyways!) giveaway that I'll be announcing on Monday morning, a spring wreath I'll be constructing this weekend, and my spring cleaning to do list for the house of Dennifer. I'll also be posting our menu items from this week, along with a few recipes (incluing pics) on the meals, so stay tuned!!
Anywho, on to Five Question Friday (5QF):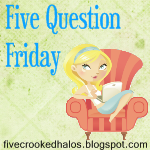 I saw a 5QF post on a bloggy friend's blog last week & decided to join the party - looks fun.
Mamma M. over @ My Little Life
hosts it every Friday & I figured it's be a fun way to help my readers get to know me a little more, so here goes:
1) Do you sing out loud in the car when you're driving?
totally
do! I sometimes do even when my hubby is in the car, sometimes I like to serenade him, lol. He
loves
it
! But I definitely sing the loudest when I'm in the car alone. Sometimes I wonder if people @ stop lights int he cars next to me think I'm a psycho for deep I get into the music...hahaha. Eh well, I figure unless I end up next to someone I know, then I'll probably never see these people again in my life, ha!

2) What would you never be caught doing?
Driving or riding in a car w/o my seat belt - I am a big proponent of safe driving. I got in an accident when I was 20ish & totaled my car. I am conviced that if it weren't for my seat belt & my air bag, I would have been seriously hurt or injured.
3) (TMI) Will you go #2 in a public restroom?
At work or somewhere else that I know is clean, or if I have to REALLY bad, hahaha, then yes. I will. I can't believe I just answered that on my blog, lmao.
4) Have you ever broken a bone?
Nope, thankfully I never have & hope I never do ::knocks on wood::.
LOL, wowza. Didn't know 5QF would include such personal situations, hahaha, but it's fun!
Now I'm off to get my
Stella
washed up nice & good for this beautiful weather! Hope you guys have an awesome weekend!!