Hey there everyone! I must, again, apologize for my blog slacking this week. I have been soooo busy at work this week & by the time I get home, I am so tired that I fall asleep right after dinner! I have bought all the supplies for my spring wreath & can't wait to make it - likely this today or tomorrow - and I'll post the tutorial as soon as I make it! I also have two recipes to post, but I forgot to take pics of them (duh!) so I'll be using random online pics, lol. finally, I still have my spring cleaning list to post - it is quite lengthy, so I'll post it in parts. So, please please accept my apology!
I did have time to post the most important post this week - my
1st Ever Giveaway
on the World of Dennifer! If you haven't entered yet, there's still time - giveaway closes Sunday night at 10pm! And if you are a new follower - welcome & thanks for following my blog - I hope that you stick around & find the tutorials, makeovers, recipes, and anything else I post interesting!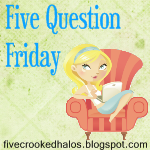 I'm here for my 2nd edition of 5 Question Friday (5QF) from
Mamma M. over @ My Little Life
. It's really fun to post all these Q&A's...and fun to read everyone's responses over on her blog. If one of my followers joins in on this blog party, please let me know - I'd love to read your responses!
1.
Who would you want to play you in a movie of your life?
Hmmm, I like Stacey Dash & I think as far as looks goes, she could probably come closest to looking like me (or I guess me looking like her, lol). I mean, she's definitely way more glamorous than I am, but we have some similar features. That & I think she'd do a great job playing me, lol.
2. Did you ever go to summer camp?
Nope, but I did go to a week-long theater camp when I was in middle school. My mom thought it would be a good idea & I actually had a blast!
3. What sends you running and screaming in the other direction?
Bees & spiders...ewww. They just creep me out. If I see a spider int he house, I start screaming & make my hubby come get them for me, lol. A little dramatic, no?!
4. What is something you do that drives your spouse nuts?
Leaving the kitchen cabinets open after I put dishes away or take them out, lol. He says it's not even just the kitchen cabinets - he says it's the bathroom ones too. He says it drives him insane! IDK why I do it, just habit I guess, haha.
5. What is currently your favorite song?
I really like the Drake song, "What Am I Doing?" It's catchy! :o)
That's all for today - don't forget
to enter my giveaway!
And look out for my spring wreath tutorial this weekend! Plus, I think a new Mood Board Monday will be posted on my blog friend -
Sarah's blog
pewter+sage
, so I'll be participating with that. Menu Planning Monday may or may not be back on Monday - just depends if I'm making anything new next week. :oP