So now I'm over the halfway mark in this pregnancy & overall I'm feeling pretty good. By the end of most days I am sore & tired, but nothing I can't handle. When I first got pregnant, I was sooo nervous all the time that I just wanted time to to fly by & for November to get here so we could meet our little one. Now, I still want November to get here, but I am starting to appreciate just how soon she actually will be apart of our lives - changing them forever. I am excited, nervous, scared, hopeful, in love & anything else you can think of at this point. I love her so much - I almost started crying in the car on my way to work this morning thinking about how I'd feel this year when the holidays roll around & we have our precious baby girl here with us! I laughed at myself & my crazy hormones for that one, but in reality, it's truly how happy I feel about this little bugger inside of me! Such a blessing & a miracle. ;o)
On my never-ending quest to spoil her (with daddy's approval of course), I bought some
CUTE
stuff from Baby Gap during their Summer Sale going on right now - I only wanted to get a few things since I hear sometimes their stuff runs a bit small, but I'm sure I'll be shopping there or at their outlet a lot more for her clothes in the future. I bought her two onesies & a cute little reversible cardigan (all in different sizes to see how they will fit her)...
A special one for her sure-to-be-BFF, Dizzle, our dog (hahaha she just kicked me when I typed that..she loves him already!):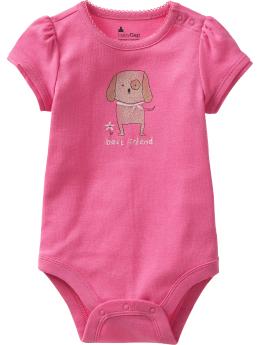 This one just 'cause she's our lil peanut: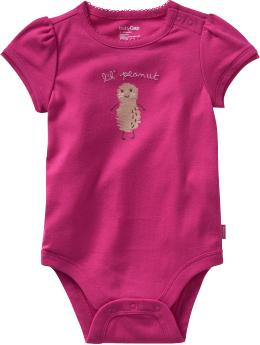 And b/c I love love love cardis on baby girls & b/c she'll be born just when it's starting to get chilly around here: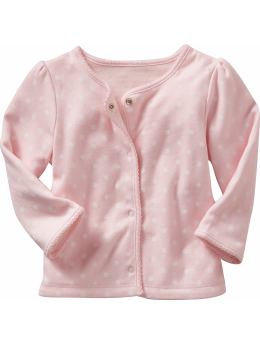 I heart Gap - it is so classic & their stuff never really goes out of style IMO. I also plan to buy here some cute baby legs I saw on
Land of Nod
when we buy her wall shelf (it's also coming from there), probably in the next couple weeks or so.
I like both the ones on the left & center!
And these pink polka dot BLs! Ahhh, chunky baby legs in these things = cuteness overload!
They will go perfectly with her little onesies I bought from Gap & I'm sure lots of other stuff she'll get. They will also protect her little legs from our hardwoods when she starts crawling around & added bonus - she'll be so cute just lounging around the house with her mama, daddy & doggie brother!
So according to the Bump, baby girl is about the size of a
large banana
this week, so she's about 10.5 inches long & weighs about 12.7 ounces. She is busy in there flipping around, kicking her mama & gulping down amniotic fluid. Babies start doing this in the womb for both hydration, nutrition & to start practicing swallowing & digesting. I definitely still feel her lots throughout the day, but still nothing extremely regular, although I do notice that she moves a lot more right after or while I'm eating. She also moves a little bit more in the evening. One semi-alarming thing I noticed the other day was a swollen looking & sore area underneath my right underarm. That area has been sore since I was about 6 weeks along. I told my OB (well, the nurse practitioner anyways) during one of my very first OB appointments, so she did a breast/under arm exam & said she felt nothing. At the time, she guessed it was just a
swollen lymph node
& it probably is. But, now it's a bit more noticeable & swollen & still sore. My hubby told me to call the doctor yesterday & I forgot - work has been busy & I hate making calls like that from my office. So, I plan to call tomorrow when I'm teleworking to see what they suggest I do. At the very least, it'll be good to have the piece of mind knowing that I have informed my doctor of the situation. As long as it's fine & will go down after my hormones calm down & doesn't get any bigger, I am going to try & not stress about it. The hubbs has been especially wonderful lately - he helps clean the house a lot more & last night I was sooo achy in my thighs, hips, lower back, shoulders, neck, etc. that he massaged me to sleep - it was like a little slice of heaven! Hahahaha. Speaking of, I finally got my bonus form work (
BIG
let down, but I am still thankful for anything extra), so I think I'll schedule a relaxing prenatal massage & maybe enroll in a prenatal yoga class. I'm sorta bummed my gym (that we pay $60/month per membership for) does not have prenatal yoga...I bet if they did, they'd get some sign ups. Hmmm, maybe I should put that in the suggestion box - not exactly sure if they have one, but if not, I'll speak to one of the member counselors to offer that suggestion. It would be great if they could get that up & running in the next several weeks, LOL.
Anywho, here are this week's bump pics...I think I'm growing more & more every week & I love it! I'm pretty much in full time maternity clothes, but can still fit some of my pre-pregnancy stretchy-type pants (like my gauchos below) & my longer pre-pregnancy shirts - hopefully my growing girls aren't stretching them out too much at the top!
And this weekend brings one of my favorite summer holidays - the 4th of July, woot! I love all the BBQs & fireworks! I am gonna be in heaven this weekend with the 3 events we plan to attend on the 4th (2 BBQs, 1 fish fry - yummy)! I'll be drinking lots of water as well to stay hydrated, but I hear we are supposed to be getting a small brake from this insane heat this weekend - thank goodness! Right now, I'm working on a new ribbon mobile for a friend's baby gift, then I'll be starting up another exciting DIY project for my baby girl's nursery! And of course, many many more project nursery posts coming up soon. 'Till next time!