Hey everyone! Yet another week has come to an end, yay! I get happy when Friday rolls around b/c I advance another week in my pregnancy on Saturdays, so tomorrow I'll be 18 weeks. And speaking of - I never posted my 17 week update. Not too much to report - baby is the size of an onion & wiggling around lots & lots in there! I can feel flutters every once in a while & I can't wait to start feeling her move from the outside & especially can't wait until her papa can feel her move around! We have another Dr's appointment + our anatomy scan/ultrasound in 2 weeks & I can't wait to see her again! We will also go register afterwords at BRU & I have started a second very small registry on Target.com already. Anywho, so as not to
rob
you of the very very
in demand bump pics, here are my photos from 17 weeks:
I just like to have it all documented on the blog since I plan to print out all of my posts about the baby & make a cute little book one day. :)
This week was pretty uneventful. I finished my first baby project, which I'll be sharing here soon..it's so cute! And I'm planning on taking a trip to the local thrift shop shop to drop off some stuff we are donating & possibly buying some old frames for another project for Baby J's nursery. That's my main D&R focus right now besides our cleaning/getting the house ready for the babe. I also have a few things I'd like to do in my office area int he basement, but one includes a desk re-finish that I can't do right now because I'm pregnant - still waiting on the hubbs to get started on that one. In other news, my poor pup is kida sick - if you wanna call it that - he has something wrong with his left ear, I think some sort of infection. So I'll be taking him to the vet later today & also getting his shots updated while we are there. Besides that, this weekend will likely be pretty chill, for once we don't have many plans, which is a good thing!
So, on to 5QF! If you want to participate, head on over to My Little Life & link up (and let me know if you do, I'd love to read my reader's answers)!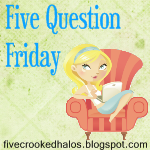 1. If you could go back to college would you change your major? Or, if you were to go to college right now...what major would you choose?
Umm, I went to both undergrad & grad school & I liked my majors. I am pretty happy with what I do, so I'm not sure I'd change it. I would like to take some party planning courses though because I'd really liek to get into wedding/party planning one day.
2. What do you love most about your home?
Hmmm, that's a tough one since I REALLY want a new house, lol. But I guess I love the location - it's so convenient to major highways/parkways, stores & malls.
3. What types of books do you like to read (if you like to read at all)?
I like murder mysteries best or true-life crime stories. I was an Administration of Justice major & Sociology minor in college, so I like to read about crime & what motivates the criminal mind. Weird? My mom is the same way, haha.

4. What is the grossest thing you've ever eaten?
Hmmm, OMG one time my mother's @$$hole husband (can you tell I'm not too fond of him?) tricked me into eating duck. IDK why it bothered me so much, I know some people really like duck, but all I could think about was the poor little duckies that I used to feed when I was a little girl. :(

5. If you HAD to be a character on a TV show, whom would you be?
This is a talk show, not a fictional show, but I LOVE Rachel ray. Her show looks like it would be so much fun & she loves what she does!

That's all I got for this Friday - nothing much going on here. I'll be back next week with some spring/summer cleaning updates & my very first baby girl DIY project recap & tutorial! 'Till next time...have a great weekend!